The Bus Stop Label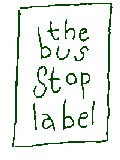 Landmark US indiepop label. Brian Kirk, who also has served as America's primary source of scarce indiepop gems first at Parasol and now at his own Mousetrap Records mail-order shop, started the first label in America to capture the pop excitement that was stirring in 1987.
Often called "the American Sarah", Bus Stop had close early ties to that UK giant. The Springfields and St. Christopher singles were in fact joint releases, with different labels and sleeves, of the same tracks as two early Sarah singles. Bus Stop was also the home of many early efforts by the Velvet Crush pop juggernaut -- Paulie Chastain, The Springfields, Bag-O-Shells, Honeybunch, Matt Allison, and of course Velvet Crush featured members of this great Providence band before Jeffrey Bourchardt persuaded Paulie and Ric Menck to move there from Illinois.
I don't know how or why the Farm Belt in the Midwest should produce the spark that lit the seven-inch revival on fire, but it did. In those early days, Pop Kids in the US were a scattered and lonely bunch, largely unknown to each other. Bus Stop (and Picturebook as well) are what brought us together,and made us realize that there were others like us, and that not all the great music was coming from England or Scotland. Every pop label in the US today, from Slumberland to Simple Machines, owes Brian a huge debt. And the records are mostly so wonderful! Someone should release a compilation cd so that latecomers could see what they missed. For me, "Hey Blue Sky!" is perhaps THE pop statement of the late eighties in America...